Upcoming September Exhibition
Ines Katamso - It Happened
Taking her art in a new ingenious direction, Ines Katamso, a French-Indonesian artist, presents It Happened, a symphony of "emotion and idealism of art" and the "pragmatism of sciences". She is known internationally for her compositions, which are both delicate and assertive with her use of colour, shapes, and lines. Katamso is deeply passionate in microbiology, in which the abstract and organic forms of the microorganisms that she had grown and studied became the inspiration for her artworks. She will be displaying her artworks that reflect the origin of life including the mechanical processes that continue it in the exhibition; inviting its viewers to contemplate both their existence within and their impact on the natural world.She stated that she hopes that the audience is able to feel the humility and awe toward the concept of 'life' like her through the exhibition.

The exhibition will be held in one of our galleries located at BNI 46 in Jakarta. It will open for viewing from September 18 until October 17, 2021.

To reserve a space to see the exhibition please message us on Instagram (@isaart.id) or via WhatsApp by clicking here.
Artist Spotlight
Hadassah Emmerich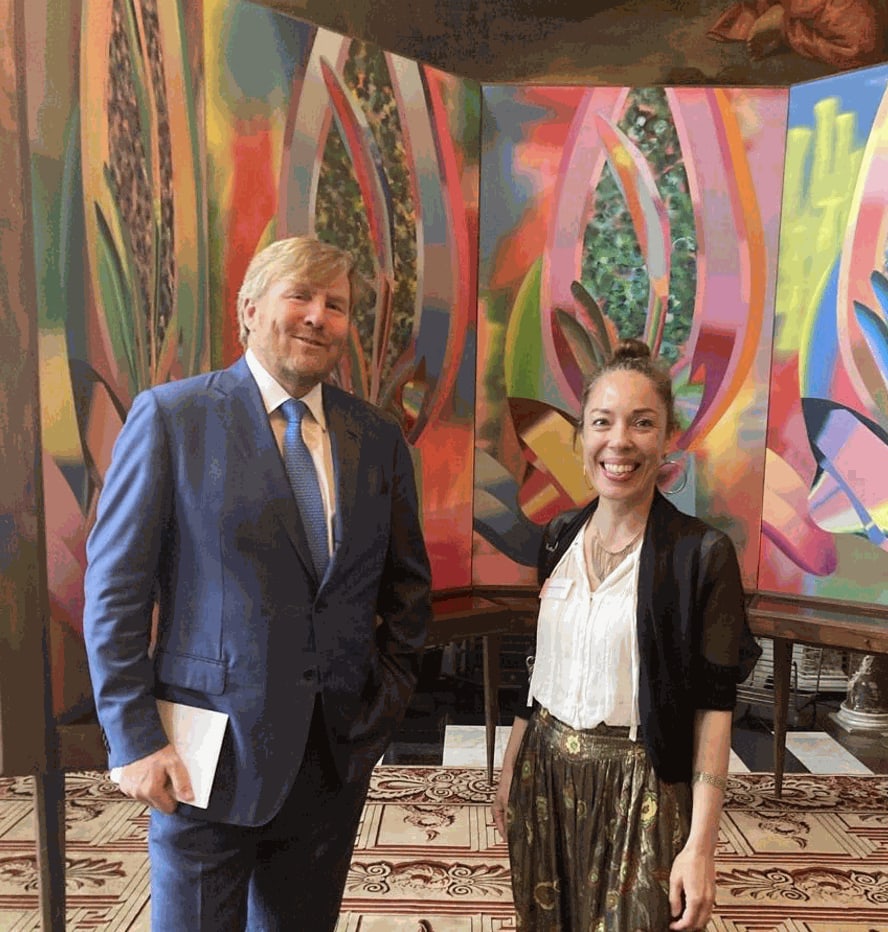 Hadassah Emmerich with His Majesty Willem-Alexander Claus George Ferdinand, the King of the Netherlands.
Hadassah Emmerich (b.1974) is a multidisciplinary artist whose artworks touch on many themes such as identity, exoticism, and self-reflection. She loves blending many concepts and ideas into her artworks to present these themes. Some of her artworks combined the materials that needed to be printed through the process of photomontage which then translated onto the canvas, creating a combination of painting and printing. One of her trademarks in her artworks is on how she loves to use bright tropical colors, creating a bold visual language that catches people's attention. The combination of tropical colors with the cold grey tones in her artworks represent her big question toward the idea of multiculturalism. The Inverted Table is her artwork that is currently displayed in the Royal Palace of Netherlands for the Trailblazers exhibition until October 3rd, 2021. Hadassah is featured above with His Majesty Willem-Alexander Claus George Ferdinand, the King of the Netherlands.
Secondary Market Gallery
Wijaya 12
Sun Clock in Day III, 2019 (Sinta Tantra), Too Young to Die, Too Old to Rock n Roll, 2007 (Agus Suwage), Kewulu Minangka Prepat II, 2021 (A.Sebastianus)
ISA Art & Design's secondary market gallery located at Wijaya Timur 12 always has a general hang of artists ranging from Indonesian modern artists such as Arie Smit, Pirous or Hendra and Gunawan among others. If you are looking for modern Indonesian art, we can also help you source paintings for your collection. ISA @ Wijaya is also a good place to discover young, contemporary artists. If you missed the Supernova show of Jompet Kuswidananto and Aaron Tayor Kuffner at Wisma 46 we have examples of their artwork as well. The Wijaya gallery is a great place to explore and discover the world of Indonesian art. The gallery is open for the public Monday - Friday 10am-6pm.
Please visit our website to view the works available at ISA. To make an appointment at the Wijaya Gallery, please message us on Instagram (@isaart.id) or via WhatsApp by clicking here.
Directions to ISA @ Wijaya click here.
Jl. Wijaya Timur Raya No. 12 Jakarta 12170 Indonesia
WISMA 46 - Gedung BNI Lobby Jl. Jend. Sudirman, Jakarta 10220 Indonesia
e : marketing@isaartanddesign.com
p : (6221) 723-3905/ whatsapp +628111733553 | www.isaartanddesign.com
September 8, 2021