THE ART OF RESTORATION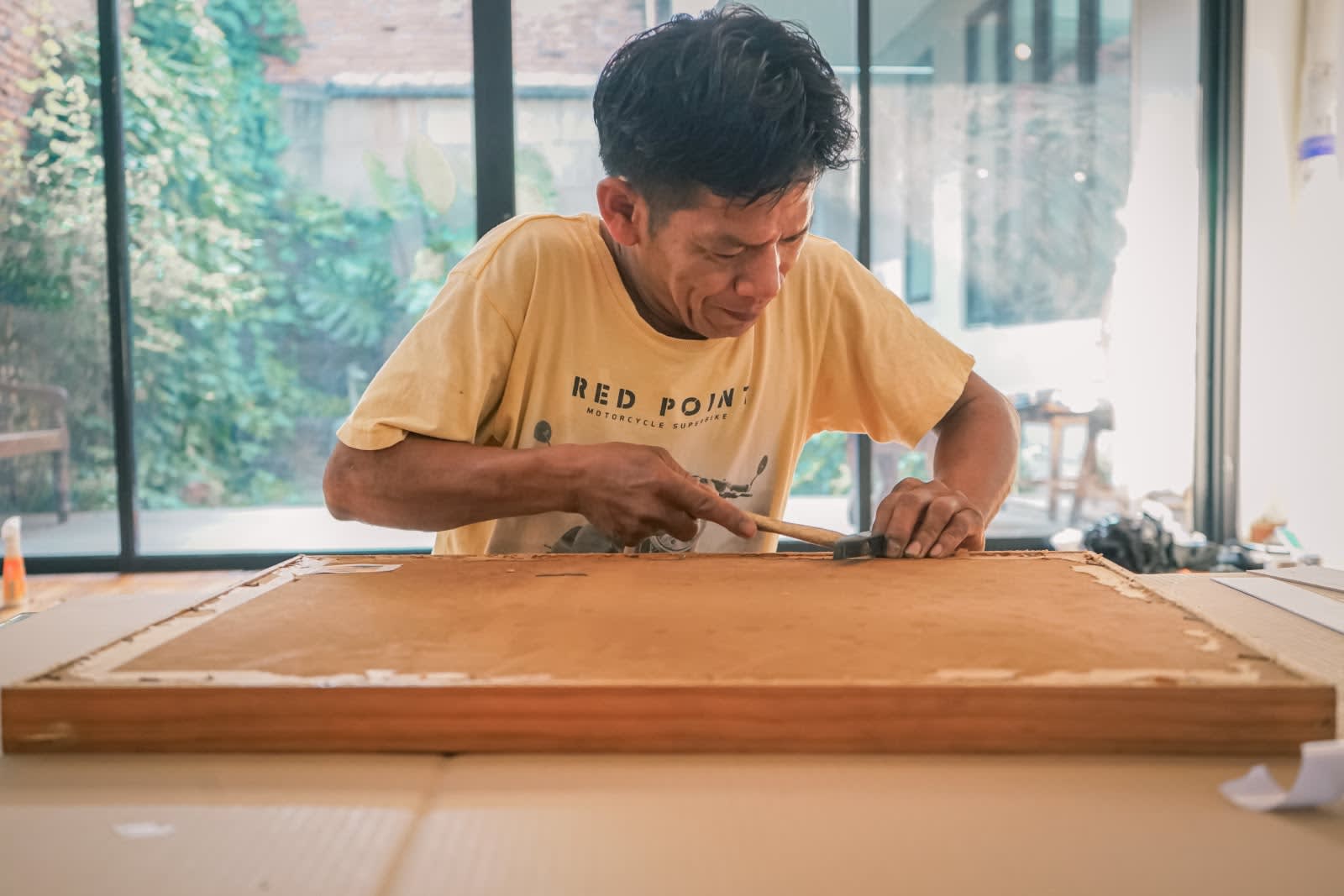 How to maintain your artwork ?

The condition of an art piece is ery important in determining the value. When living with or maintaining art there are always natural conditions that can damage an art piece, especially in South East Asia, where the temperature is very humid. Fungus and acid can cause a variety of problems with an artwork. From natural yellowing over time through changes in the compostion of the paper,, foxing or or worse can cause an art piece to loose its value.

Many of these risks can be reduced with proper framing.
One of the ways to prevent this is is the use acid free paper, glue and mountings. Choosing high-quality acid-free materials throughout the framing process will ensure your art is preserved and protected against deterioration. With a variety of properly treated and acid-free options to fit any project need and budget, it's easy to make a modest investment that will maintain your art in top shape for years to come.

Other factors to consider when maintaining a work of art is its location. Its best not to put artwork in direct sunlight, Sunlight can lead to fading of an artwork, and can be especially damaging to works on paper. Paintings will naturally age with time, and collect dust and dirt, but its not recommended to clean artwork very often as frequent cleaning and especially re-touching of a painting can reduce its value. The frames should be wiped often to prevent dust from accumulating.

Artwork is an investment that needs to be protected. The correct framing, hanging, and storage of artwork can help protect the value, at ISA, we can provide advice on framing and caring for your collection.
artist spotlight: ida lawrence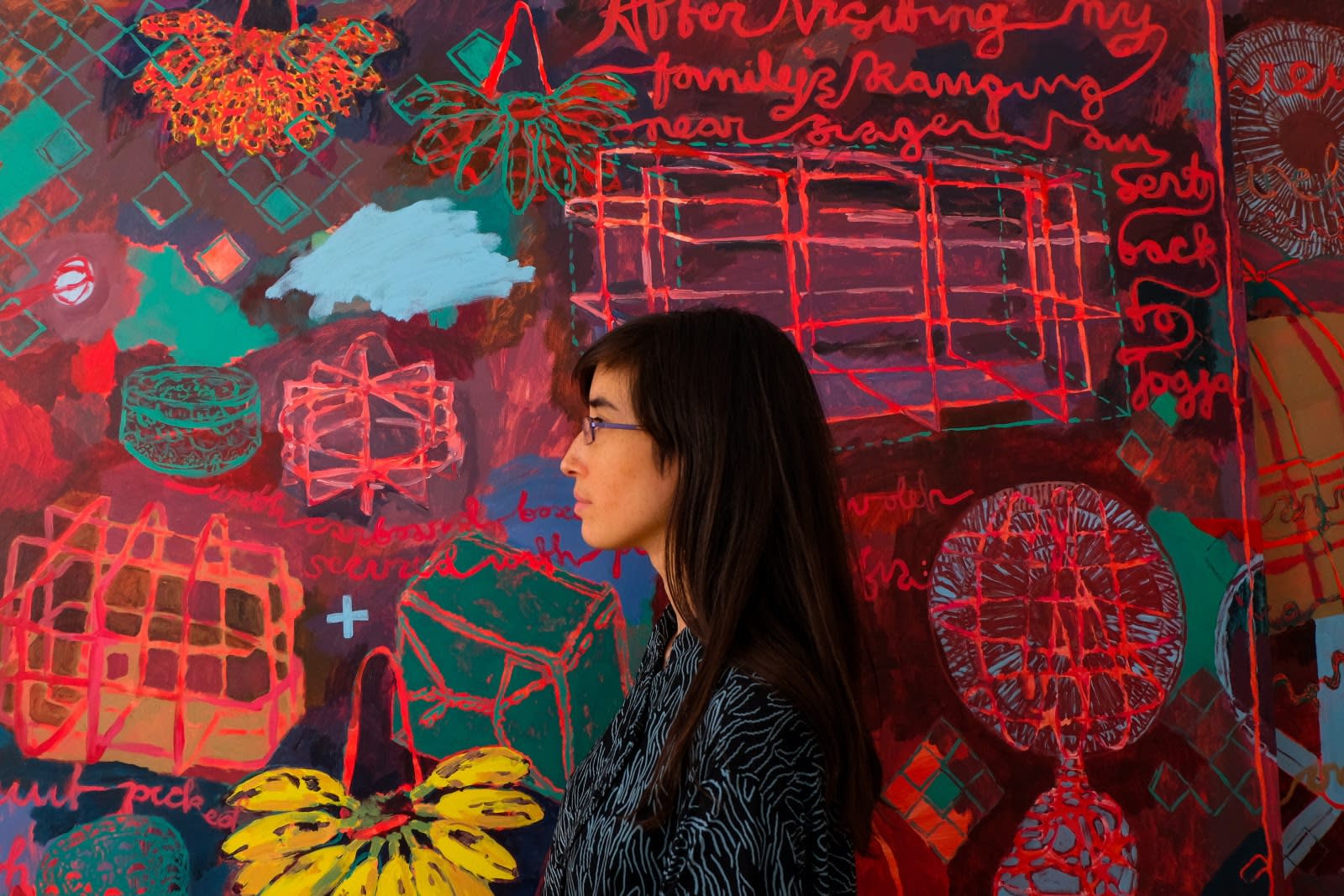 URBAN SPREE MURAL
Berlin, Germany 2020
Ida was selected to create a mural with the theme "Importance of Art and Culture in the time of Corona"
Ida Lawrence is a visual artist of Australian - Indonesian heritage currently based in Berlin.
She obtained a Bachelor of Fine Arts, National Art School, Sydney AU followed by a degree in Bachelor of Visual Arts (Honours Class I), Sydney College of the Arts, Sydney AU. Born from an Indonesian father and Australian mother, Ida has been exploring her Indonesian roots as part of her art practice.

Ida weaves stories through her art. Her narrative paintings, which combine text and image, are informed by research and personal experiences between Australia and Indonesia. In projects she calls 'Fabricated Histories', she brings fictions to life through installation, painting, text, photography, curation and collaboration.

Ida has continued to expand her visual narrative with continuous exploration and collaboration. Her move to Berlin was brought on by her curiosity of being somewhere she didn't have a connection to, as the art scene there is completely different to her experiences in Indonesia and Australia. Her recent work is a collaboration with Urban Spree. She created a mural about art and culture in times of Corona. She was inspired during the lockdown about the idea of isolation and self reflection. She was also inspired by the street art in Berlin of murals and chalk drawings.

Ida has held solo exhibitions in Japan, Indonesia and Australia and her work has been included in group exhibitions such as The 15th Asian Art Biennale, Dhaka, Bangladesh (2012), Sculpture By The Sea, Sydney (2013) and "Looking Here Looking North" at Casula Powerhouse Arts Centre, Sydney (2019). She has been an artist in residence in Japan, Indonesia, Malaysia and Sydney and her practice has included working collaboratively with visual artists, writers, musicians, actors, filmmakers and dancers.. Ida is also a member of Wove Kolektiv, a group of Australian artists with personal ties to Indonesia. Ida's work will be included in our upcoming exhibition "Buah Tangan" of Indonesian Diaspora artists.
art at home
Erik Pauhrizi
Unreadable Robster, 2010
Embroidery on Canvas
204 cm x 130 cm
ISA x La Flo collaboration have recently installed a new series of works. Art and design are intrinsically linked, especially when it comes to furnishing a home. The selection of art in a home reflects the temperament and soul of the owner.

A pop art work by Erik Pauhrizi is a new media embroidered artwork titled "Unreadable Robster" . Juxtaposed between the neutral toned furniture and accessories this brightly colored work, a characteristic of pop art creates a beautiful contrast in the space. The bright red and contrasting black threads create a depth in the space compared to having an empty wall with no visual appeal. Having artwork in the home is never a wrong decision, and a profitable investment in the long run.

Another vignette was crated with "Dimas's Wifi Tower" by Ida Lawrence. The painting is the story of Ida's own experiences connecting with Indonesia as her familial identity. The bright yellows, greens and blues give a different brightness to the space paired well with the corresponding space. As seen in the showroom, her bar of bright red paint also gives nod to the candles displayed on the coffee table. This connection brings the whole room together and creates a layer of luxury in the space. Selection of artworks always comes to a simple rule, where does this painting live in your space and the story the artwork is conveying in your home.
Ida Lawrence
Dimas_s Wifi Tower, 2018
Acrylic on Canvas
152 x 183 cm
September 12, 2021